Greetings from the President
Update: September 3, 2019
Ushering in the paradigm shift in psychiatry and psychiatric services
: Keynote speech upon reappointment as president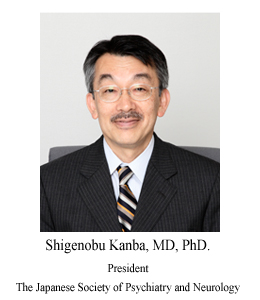 I feel the weight of responsibility as I am reappointed as president of the Society. I would like to begin by reviewing the Society's principles and objectives, and launch a new framework by sorting and clarifying issues that were not fully addressed over the past two years, which need to be newly tackled. I ask all members to please take this opportunity to share their candid opinions.
The uneven regional distribution of psychiatrists is indisputable. In areas that lack doctors, psychiatrists are provided with limited opportunities for training, and at the same time boldly take on challenges in their practice every day. As witnessed at the general assembly in Niigata this year, academic meetings and training sessions conducted by each committee have been enriched. However, we must also keep in mind that there are also many psychiatrists who face difficulties attending academic conferences and training sessions at remote locations far from their own region of practice. To address this, I would like to enhance learning opportunities, especially e-learning materials, in order to allow them for access to lifelong learning opportunities wherever they live and practice, from the stage of postgraduate training. There were cumulatively 8,700 viewers of e-learning materials last year, indicating that our members are not as hesitant to learn through online materials any longer. Taking TED conferences with worldwide fans as our model, we shall take swift steps to produce appealing educational videos that cover a wide range of themes and inspire audiences to listen to lectures given by key speakers.
In addition to building knowledge and skills through mutual learning, postgraduate training in psychiatry demands that psychiatrists are trained to respect the patient's feelings, values, human rights and life philosophy while providing care. Psychiatrists have been listening to patients and taking initiatives to integrate patient experiences into psychiatric care. Our Society has reflected on the perspectives of the patients and their families during revision of the "Proposal for Promoting Research to Help Patients Recover from Psychiatric Symptoms and Offer Support for Disability." Going forward and pushing this ahead with the efforts of the Society as a whole, I would like to launch a new investigative committee.
The ICD-11, the announcement of which has been delayed, was officially approved at the WHO general assembly in May this year. By 2022, the medical classification will be switched to a new version worldwide. Our society will standardize the translation of psychiatric terms and continue with the translation of the diagnostic guidelines for "Mental, Behavioral or Neurodevelopmental Disorders" in the ICD-11. We will also prepare educational materials to ensure its appropriate application.
I hope to see further participation by young and female members in all committees. In particular, female member participation is one key issue discussed by the board of directors this term. I would like the board to collaborate with the Gender Equality Promotion Committee to propose substantial policies. Moreover, I feel the need to conclude our ongoing deliberations, which include an investigation on multiple facilities regarding physical restraint and the former Eugenic Protection Act.
I shall reiterate something I also wrote when I was appointed president two years ago: the ultimate goal of the activities of the Japanese Society of Psychiatry and Neurology is to offer the best psychiatric care in Japan and earn the trust of the patients and their families. To this end, close mutual collaboration is necessary among the Society, universities, general hospitals, psychiatric hospitals, clinics specializing in psychiatry and neurology, and related facilities, organizations, and professions. I ask all members for your continued understanding and support.

Shigenobu Kanba, MD, PhD.
President
The Japanese Society of Psychiatry and Neurology